Interactive Lobby
Sanofi
/ Interactive Web Experiences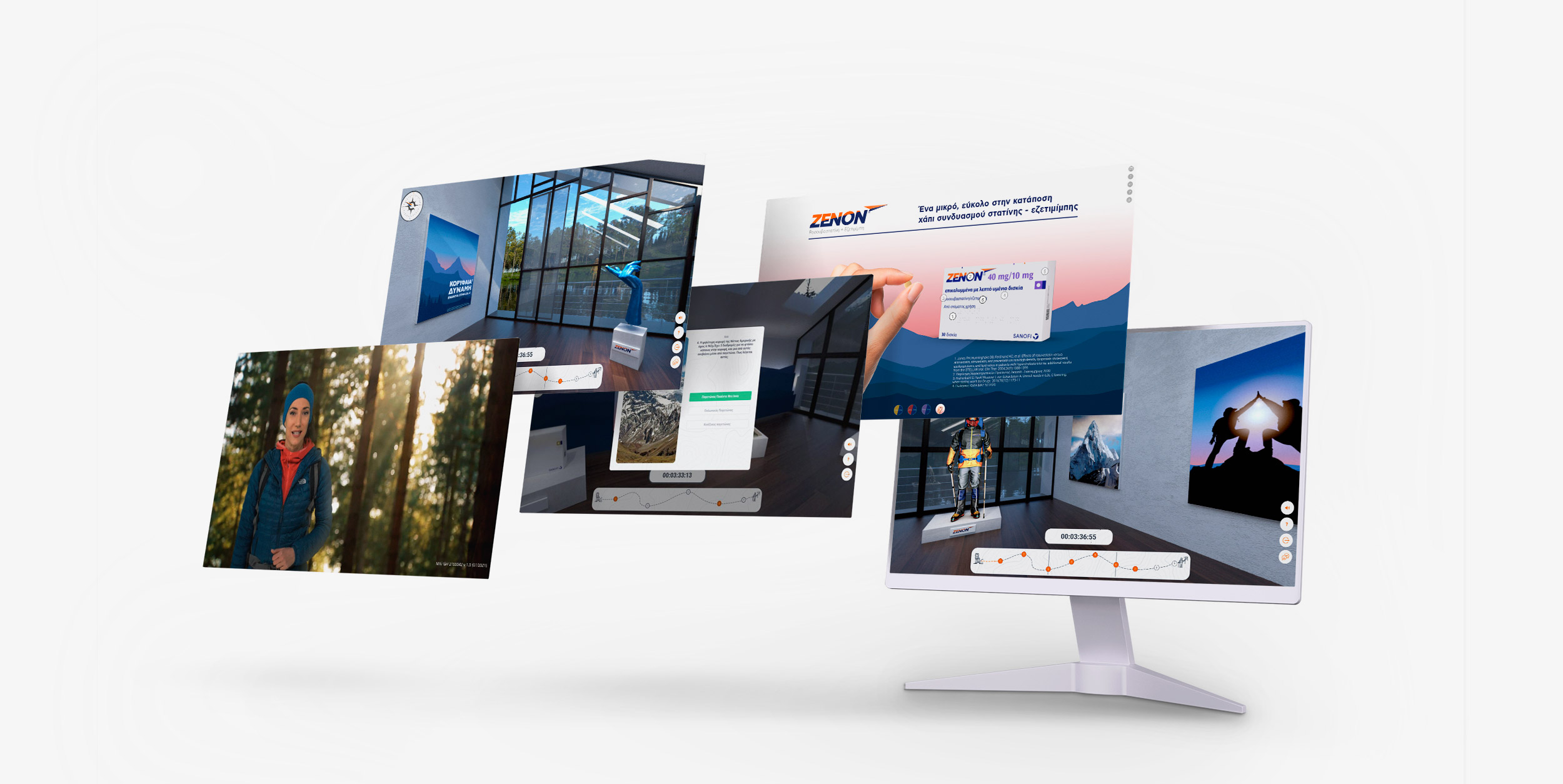 Client | Sanofi
Product | Zenon
Event Agency | Eventplus
Publiced | 2022

Decoding the Project
Exploring the Purpose and Scope
Eventplus approached CGWorks to combine their efforts and offer Sanofi Greece an unparalleled hybrid event experience. The event aimed to host doctors and pharmacists to introduce them to a new pharmaceutical product. CGWorks designed and developed an interactive lobby, which served as an entertaining and educational lobby of the digital launch conference for the new Zenon pharmaceutical product. The event was held via live stream, using a combination of the Teams and Zoom platforms.
The interactive lobby was opened on the morning of the day of the conference and remained accessible for five days after the end of the event. Users were given individual passwords for access. Within the lobby, users could freely navigate and participate in activities specifically designed to enhance their understanding of the new drug. The activities included quizzes, videos, interactive 3D presentation of the pharmaceutical product, product description PDFs and other information provided enjoyable alternative approaches to inform users before the start of live streaming while educating them about the new pharmaceutical product. A countdown clock at the bottom of the screen kept users informed of the start time of the live stream. When the time came, the app prompted users to log in, ensuring they were prepared and up-to-date on upcoming content. Throughout the event, users were able to ask questions via live chat and participate in interactive polls based on questions posed by the speakers.
After completing the digital event, users returned to the lobby for a short survey. It is worth noting that many users, after completing the survey, returned to the lobby to engage in further activities. Additionally, it was observed that users continued to access the platform in the following days.
In the survey, users praised the immersive digital experience and awarded it high scores. They described the hybrid event delivered as comparable to in-person events before COVID.
The digital experience delivered by CGWorks and Eventplus to Sanofi Greece was so successful that it became case study at Sanofi Switzerland.
3D interactive experiences
Best experiences are those you can engage with
/

Interactive 3D Product Presentation
The promotional campaign for the pharmaceutical product emphasizes the idea of conquering the summit. Likewise, the digital event adhered to the same thematic category, presenting the individual commitment of each person towards ascending to the top and achieving success.
With Christina Flamouri as the main host, the remarkable Greek woman who has successfully scaled the world's 7 highest peaks, a constant parallel is drawn between the personal summit of each individual and the challenging path we will undertake to attain healing, success, and advancement